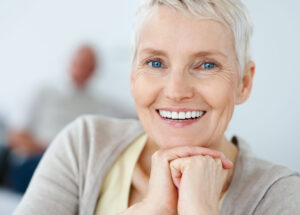 For many patients, dental implants are the preferred method for replacing missing teeth. Dental implants are embedded in your jawbone to give you more stability than other tooth replacement options. If you're curious about whether dental implants are right for you, here are some of our most frequently asked questions about the dental implant procedure.
What are dental implants?
A dental implant is a prosthetic tooth root (typically made of titanium) used to anchor a crown.  If you have missing teeth, our dentist may recommend dental implants to restore the appearance and function of your smile.
What are the benefits of dental implants?
Unlike other tooth replacement options, dental implants are anchored to your jawbone for long-lasting stability. With dental implants, you will be able to eat foods with more stability and confidence than dentures.
Your jawbone needs pressure from tooth roots in order to stay healthy. Otherwise, missing teeth will cause your jawbone to deteriorate over time. Dental implants fix this problem by giving your jawbone tissue the stimulation it needs to stay healthy. Dental implants prevent jawbone deterioration, and can help prevent further tooth loss.
Do dental implants hurt?
During the dental implant procedure, you will have access to sedation and will not feel any pain. It's normal to feel some discomfort or tenderness as your mouth heals afterwards, though, especially in the first few days. Your discomfort should lessen in the days following your procedure.
What is the recovery process like?
While recovering from the dental implant procedure, you'll need to make some adjustments to your diet and be sure to get lots of rest. Try to eat soft foods that are easy to chew and avoid extreme temperatures.
You may experience some swelling and bleeding in the area in the days after your procedure.  Bleeding can be managed by biting down on a piece of gauze. Be gentle when chewing and brushing your teeth.
Try to avoid exercise or other strenuous activities in the days immediately following the procedure. You should rest as much as possible to allow your body time to heal.
Am I a candidate for the dental implant procedure?
To be a candidate for the dental implant procedure, you must have healthy gums and bone. However, if you don't have sufficient bone for the procedure, our Kalamazoo dentist may recommend a bone graft.
How long do dental implants last?
A tooth implant can last for decades when given proper care. After the dental implant procedure, you'll need to continue your oral hygiene routine by brushing your teeth twice a day. We also recommend flossing once daily to remove dental plaque hiding in between teeth and along the gum line.
Heavy forces on the implants such as grinding or clenching the teeth can cause the implant to loosen or fail.  If this habit occurs a bite splint (occlusal guard) to protect your implant(s) and teeth is recommended to wear at night.
Can I get more than one dental implant?
Yes, we can replace more than one tooth with dental implants. In fact, if you have several missing teeth, our dentist may recommend dental implants to prevent further tooth loss.
Ready to Make an Appointment?
Dr. Stephanie Busch-Abbate is a dentist in Kalamazoo, MI that restores implants. To request an appointment, call Gentle Dentistry at (269) 381-3890.