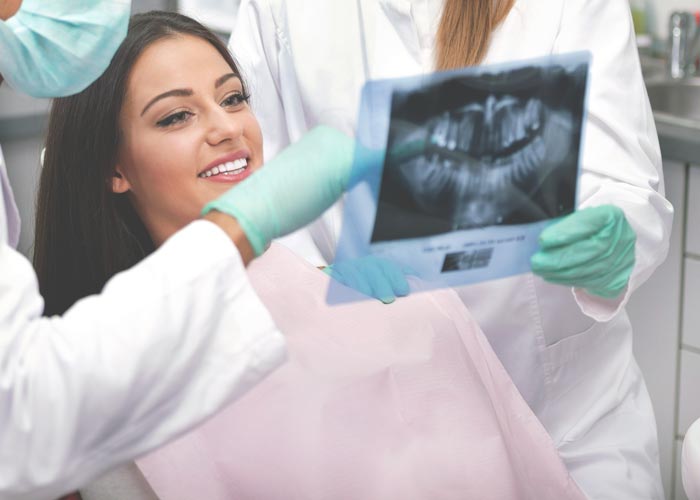 Our dentist in Kalamazoo, MI uses advanced dental technology to improve your experience at our office.
Whether you need a new dental crown or are interested in straightening your teeth, we can help you find the best solution for your smile.
Dr. Busch-Abbate is accepting new patients! To schedule an appointment, call Gentle Dentistry today at (269) 381-3890, or contact us online. Our team has the skills, experience, and tools necessary to help you protect your oral health.
Dental Technology Capabilities
Digital X-Rays
Did you know digital X-rays expose you to 70% less radiation than traditional film-based ones? Digital dental X-rays can also be viewed instantly on our computer so we can get an accurate look at your underlying oral structures. Our dentist is also able to magnify digital X-rays to better diagnose conditions and plan treatment.
3Shape TRIOS®
Our Kalamazoo dentist can use the 3Shape TRIOS 3 Wireless Scanner, which allows us to enhance the patient experience with reduced chair time and new treatment opportunities. This wireless intraoral scanner is fast, accurate, and comes with continuous software updates. The 3Shape TRIOS 3 Wireless is the latest, most advanced TRIOS yet. 3Shape TRIOS enables the widest range of treatment options with verified CAD/CAM lab workflows for crowns, bridges, veneers, and other restorations.
Intraoral Scanner for Digital Impressions
In the past, dentists used trays full of pink putty to make molds of your teeth and gums. (In fact, some dentists still do this!) Dr. Busch-Abbate uses a non-invasive digital scanner to take pictures of your teeth and gums. These digital dental impressions are highly detailed, which helps us better diagnose conditions, plan treatment, and make restorations like crowns.
Cavity Detector/Spectra
Spectra is a noninvasive caries detection aid that helps eliminate the guesswork in detecting and diagnosing tooth decay. It is the only caries (cavities) detector that uses fluorescence technology to visualize and discover cavities earlier than traditional methods.
Intraoral Camera
Our Kalamazoo dentist uses an intraoral camera to take pictures of your teeth, gums, tongue, and the rest of your mouth. Unlike older dental technology, the intraoral camera has a slim design that allows our dentist to view the inside of your mouth from a wide range of angles. We're able to digitally store, print, or delete the images captured by our intraoral camera.
Cavitron JET (Power Scaler)
The Cavitron JET is an ultrasonic scaling and air polishing system. While other dentists use hand scalers to scrape plaque and tartar from the surface of your teeth, Dr. Busch-Abbate's team uses power scalers. These scalers use ultrasonic sound waves to break up stubborn tartar buildup. The power scalers also rinse your teeth with a high-powered stream of water to remove plaque and tartar quickly.
ViziLite®
About 53,000 Americans get oral or throat cancer each year, which is why we use ViziLite for regular screenings. ViziLite is an oral lesion screening system that we use in addition to the physical exam where we feel for suspicious bumps in your mouth and neck. Oral cancer screenings save lives by catching cancer in its early stages when it's most treatable.
OraVerse®
 helps reverse numbness caused by local anesthesia twice as fast. This means you won't have to worry as much about biting your lips or the inside of your cheeks by accident. You also won't have to worry about drooling or not being able to speak properly while the numbness wears off.
Zoom! Whitening
Zoom! whitens your teeth by several shades in one appointment. We also offer custom teeth whitening trays through Zoom! that you can use from the comfort of your own home. Ask about in-office Zoom! teeth whitening for fast results and at-home treatment for gradual whitening.
ClearCorrect®
 is an alternative to traditional metal braces. Unlike metal braces, these clear aligner systems fit over your teeth and can be removed for eating, brushing, and flossing. ClearCorrect is also more discreet than having metal wires and brackets on your teeth.